TECHNICAL SPEC
ENGINE: 1993, dry-sumped YB, Piper adjustable verniers and duble valve springs, 750cc injectores, K&N filter with cold-air ducting, Zetec coil pack, Magnecor leads, NGK Grade 9 racing plugs, Motec M4 ECU, Aquamist water injection, Radtec radiator and oil cooler, 3" diameter straight through twin-box exhaust system.
Power: 450bhp@6800rpm
Torque: 400ib ft@4800rpm

TRANSMISSION: Borg-Warner T5 gearbox, Super Clutch twin-plate clutch, single piece propshaft, narrow Atlas axle with 4:1:1 final drive, Fostek two piece halfshafts and R&D plate type otorsport LSD.

SUSPENSION: Reiger three-way adjustable front shocks with remote reservoirs, 400lb coil springs, front anti-roll bar, adjustable Watts-link, adjustable rear anti-roll bar, Reiger three-way adjustable shocks with remote reservoirs, 250lb coil springs.

BRAKES:AP Racing four-pot front calipers with330mm vented and grooved discs, Sierra Cosworth two-pot rear calipers with 273mm discs, Ferodo DS2500 pads, mechanical handbrake, fabricated pedal box, twin master cyclinders and balance bar.

WHEELS & TYRES:9x17" Compomotive split-rim alloys with 235/45/17 Dunlop DZ02G trackday tyres front and 255/40/17 rear.

INTERIOR: Multipoint Custom Cages roll-cage with V-brace, cross rear diagonals and double door bracing, Sparco Evo Kevlar composite driver's seat, OMP 13" steering wheel, Sabelt four point harnesses, Racetech instruments, Motec ECU, 10 gallon alloy tank, high pressure fuel pump system. WEALDEN RACING FORD ESCORT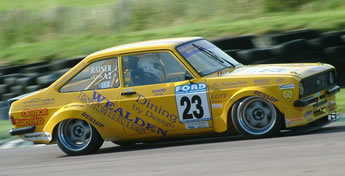 This car is raced by Craig Rainer in the Ford Saloon Car Championship. It has enjoyed many race and class wins and took the overall championship title in 2002.

All the design, fabrication, build and set-up was by JEMS. First studying the championship regulations JEMS built a one-off suspension, building it square and with the correct geometry. The front end had to be completely redesigned to be wider to change the front to rear ratio split. This involved moving the strut tops outwards and the manufacture of a new crossmember, TCAs, compression struts, anti-roll bar, drop link, steering arms etc.
The rear end axle linking is different too with the turrets moved inboard, roll-centre adjusters on the axle and a rear anti-roll bar. The suspension has a lot of adjustability, which makes a real difference on the track.
The engine is a JEMS built YB designed for torque, responsiveness and reliability.