TECHNICAL SPEC
Toyota 3SGTE engine, ST205 block, HKS steel crankshaft, Crowler steel conrods, JE forged pistons, ARP bolts and HKS metal head gasket, alloy crank pulley. double valve springs, 272° camshafts, custom intake manifold with internal ram pipes, 75mm throttle body. Garrett GT35/42 ball-bearing turbo, 44mm remote wastegate with screamer pipe, custom exhaust system, HKS intercooler, custom lightweight stainless steel hard pipes and Samco hoses. Custom oil breather system, custom PAS reservoir, custom allot radiator, 1000cc injectors and much, much more!

Performance: 700+bhp and 500lb/ft torque at 2.4bar





JEMS work closely with Fensport Performance Products the mail order company for high quality Toyota performance parts



ENGINE BUILD
Toyota Celica GT4X
This car was timed at 202.12mph at RAF Woodbridge in November 2009.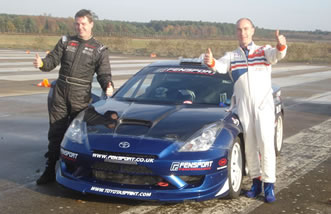 The 700+bhp engine was developed and built by JEMS. The car is a road legal drag racer capable of a 10.6 second ¼ mile. The engine is built with the very best components and despite Adrian Smith, the cars builder, having undisputed knowledge in this area he entrusted the build to JEMS to achieve the all important reliability.
On its very first outing the car proved to be competive with a 11.1 second run at Santa Pod. This car is also used at circuit events like Time Attack.