Future Development
With further development JEMS will be aiming to break the 500 bhp mark. So if you would like to be the proud owner of one of these supercharged Duratec engines please contact Jon Edwards 01327 702270.





TECHNICAL SPEC


Engine:
2.3 ltr Duratec
Rotrax Supercharger
Custom cam shafts with JEMS profiles
Low compression pistons
456 bhp
340 ftlbs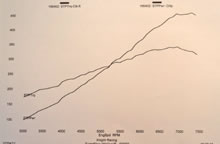 The graph shows how torque follows the rpm unlike naturally aspirated engines where torque falls off with the increase in rpm. Full bhp and torque are achieved about 400 rpm apart so the engine pulls all the way to the top.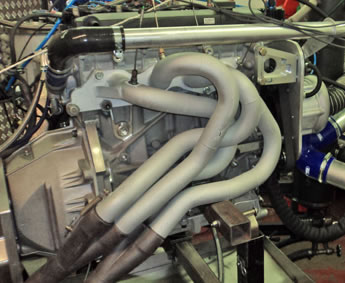 JEMS – Supercharged Duratec
456bhp 340ftlbs torque.

The engine below is a supercharged Ford Duratec built by JEMS. It's the first time JEMS have put their extensive engine building knowledge to extracting this type of power from the Duratec.
The engine sits in a Mk2 Escort circuit racing car which runs with one-off Subaru running gear. JEMS have helped to develop for the last four years. When it was decided to take another step up in the cars performance many engine options were considered. The final decision was to develop the cars existing Duratec engine.
JEMS stripped and performed an analysis to see how they could improve power. To have generated such a large amount of power at the first attempt is a great achievement.
The car drives like a very big naturally aspirated engine. It is very drivable and responsive with no power surge like you get with a turbo engine. It applies power with a very linear delivery and you can hold rpm in a corner to settle the car.
© Copyright 2012 Jon Edwards Motorsport.