RALLY CAR PROJECT
This Mk2 Escort is being developed for the Irish Tarmac Rally scene. The shell is set perfectly level and welded to the Jig while front and rear suspesions are fitted.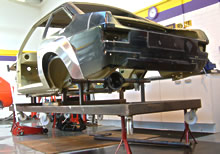 A car built for tarmac rallying car is completely different in its specification and set-up to a track car.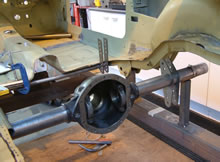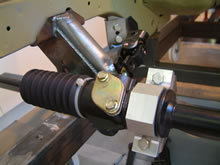 The car will use WRC and group A spec components. The base car maybe 30 years old, but it will be 2008 specification.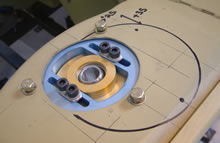 Adjustable strut top can be fitted in the standard position or relocated for extra track.

Interested in this Escort? Contact JEMS Ford Escort – Mk1 to Escort Cosworth
JEMS have desiged and built all types of Escort from fast road versions to championship winning race cars and tarmac specification rally cars. Cars can be built to best suit the championship regulations. A 30 years plus old Escort can have the very latest in design and technology built into it.
Use this link to read how JEMS developed a 1092bhp engine for an Escort Cosworth.
JEMS have designed a wide track suspension system for the Mk2 Escort, click here for details.
© Copyright 2012 Jon Edwards Motorsport.