Latest news on Simonís progress.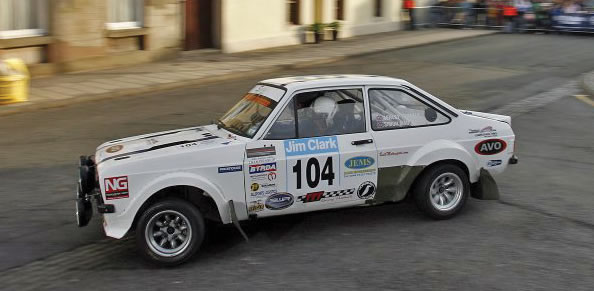 Tour of Epynt
Major Motorsport's First Win of the Season!
Simon Mauger and Brian Cammack were seeded car 3 for the first round of the MSA Asphalt Championship, the Tour of Epynt, held on the 11th of March 2013.

The event had a very strong entry with the top 10 finishers being comprised entirely of world rally cars, apart from Simons Escort and 2 Darrians. The only other Mk2 Escort to finish in the top 20 was Stevie Leonard who finished 17th, over 4 minutes behind Simon.

"We have proved yet again that Major Motorsport are the number 1 Mk2 Escort team and still have the best Mk2 Escort in the country!"
Click here to download the full report »
Roskirk Stages
First test of 2013
A last minute entry by Major Motorsport, Mark Jasper and co-driver Phil Merrills thoroughly enjoyed the day, and kept the crowds entertained with some flamboyant driving.

"He clearly knows what makes a car handle well."
Click here to download the full report »
2010 Paperclix Jersey Rally
Winners by 38.5 seconds and almost one minute ahead of 2010 WRC Subaru
Simon Mauger and Brian Cammack won the 2010 Paperclix Jersey rally, 38.5 seconds behind was Steve Leonard and Sion Humphreys. Peter Lloyd and Nicky Grist took 3rd place in Peter's 2010 Subaru S14 WRC, 58.2 seconds off the leaders!
The Jersey rally is notoriously tough with 31 stages run over 2 days including night stages. With dry weather (for a change) Simon took the lead straight away posting the fastest times in 6 of the 8 opening afternoon stages. The teamwork between Simon and Brian really came into play in the night stages. They took 1st in all 4 evening stages gaining a further 34 seconds on the nearest car. Unfortunately the remaining 3 night stages had to be cancelled or their lead may have been greater. However a solid performance meant they held the lead throughout to win outright.
A brilliant end to the season!
Tyneside Rally August 2010
First National Rally win in a Mk2 Escort in 20 years
Simon Mauger and Ashley Trimble won the Tyneside Rally overall in his mk2 Escort! Tyneside was the 6th round of the MSA National Asphalt Championship, and Simon now leads the series overall. They fended off several WRC crews, to achieve a first for a mkII escort, winning a National Rally outright, in a long time.
Despite only ever competing on the specialised mod roads of Otterburn once before, and being up against some stiff competition from local crews (including championship rival – John Stone & Patrick Walsh) Simon got off to a reasonable start in 3rd place after the 1st loop. Simon then upped his pace to move into 2nd just 15 seconds behind Stone.
Stage 4 saw Simon and Ashley moved into the lead, as Stone lost 30 seconds with a spin. Stone continued to put pressure on the Escort crew, trading fastest times and going into the last and longest stage of the rally (16 miles) just 18 seconds behind. Simon and Ashley had no option but to push hard. Despite Stone and Walsh taking 10 seconds back they held on to take a famous win by just 8 seconds.
"This is the win we have been chasing all year; it's great to win a National Rally in a mkII Escort. We were a bit worried, as going into the last stage it looked like it was going to rain (which would have suited the WRC cars) but it held off. Just after the finish we had a tyre blow out on a road section, so we had a bit of luck on our side this time" said Simon.
"We have to say a big thanks to the service crew one of which drove five hours from Oxfordshire Saturday night before the Rally with spare parts after we discovered a leaking oil seal. Thanks too to everyone who has helped make this win possible, especially Millington, Sadev, Avo, Harknes Tyres, JEMS, and Fostec" said Ashley.
Rally of the Midlands June 2010
Simon Mauger and Co-Driver Chris Butcher failed to hold on to an early lead to finish a disappointing 3rd overall on the Rally of the Midlands. The Hinkley based Rally was the 4th round of the MSA National Asphalt championship and it was the first time the unique 2 day event was included in the championship which caused some mixed feelings from the crews mainly because of its non pace note format and extensive use of the testing ground at Mira.
Rain at the start of the first loop of stages on Friday evening caused some concern for Simon in his two wheel drive Escort mk2, but he needn't have worried as he immediately set the pace by winning 5 of the 7 stages to move into an overnight lead of 9 seconds from the WRC Focus of Damian Cole.
Simon again set fastest times on the opening loop of stages on Saturday to extend his lead but disaster struck on the first run through Mira as several crews including Simon and Chris struggled to follow the correct route – "we must have came to a complete stop at least 3 times because the layout of the course was not at all clear enough and at one point we had to slow right down as a level crossing type barrier came down in front of us which so I thought their might be a train about to cross in front of me" joked Simon. Simon made light of the situation but lost over 30 seconds to Cole and John Stone in his Skoda Fabia WRC.
The Escort crew were again fastest at Mallory park race circuit to get back into contention but a return visit to Mira again saw them struggle and drop a minute which effectively ruined their chance of the win, "we were going ok on the last run round Mira but got lost again halfway round and actually had to stop and ask a marshall which way to go" said Chris. "I know it was the same for everyone and we still enjoyed the atmosphere of the Rally but it's always a shame when something like this happens".
Another rostrum finish still leaves Simon 3rd overall in the standings and 1st two wheel drive and the next round in Ireland – the ALMC Rally should suit him more.