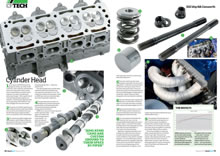 Classic Ford Magazine
This engine was featured in Classic Ford Magazine. The article takes a detailed look at the build process of this engine. You can download the article from the link below as a PDF file.
>>Download Article
>>www.classicfordmag.co.uk

TECHNICAL SPEC
Engine:
2.5 ltr Alloy Engine
Naturally aspirated (non-turbo)
Ford Cosworth YB.
• Increased capacity 2 litres to 2.5 litres
• Alloy Block 10mm taller on deck height
• 96mm bore
• 88mm stroke
• Motec engine management
• Slide throttle 4x400cc injectors
• Dry sumped

Performance:
345 bhp @ 8000rpm
252 ftlbs @ 5800rpm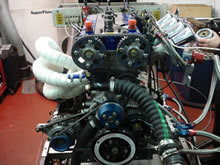 Engine on the dyno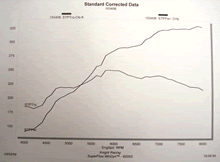 The above graph shows the results from the dyno test.
The top line shows bhp
The bottom line show torque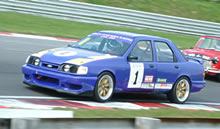 Andy Williams Ford Sierra Sapphire Cosworth in action at Brands Hatch.
Taking the YB Engine to new levels
345bhp naturally aspirated

This engine, used in the Sierra of Andy Williams, is one of the first in the country to deliver this very wide power band with increased capacity and light weight. The engine utilises an alloy block 10mm taller on deck height and all engine parts are custom made including cams, valves, springs, followers, pistons and rods.
Andy races in the BOSS (Blue Oval Saloon Series) and Welsh Saloon and Sports Car championships in his Sierra Sapphire Cosworth, built and previously raced by JEMS Race Engineerings Jon Edwards. This car is very light weighing only 940kg.
The images below show this engine being built in the JEMS engine room, on the dyno where the engines huge power was realised and installed in the car.
The very wide power delivery produced by this engine combined with its light weight make it a particularly good engine for rallying. If you would like to know more about this engine contact Jon Edwards, click here for contact details.