ABOUT JON EDWARDS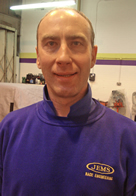 Jon's career started as an apprentice at a Rover V8 conversion specialist learning all about steel fabrication and built himself a spaceframe V8 2CV!
Building an engine and the importance of good preparation "engine etiquette" was learnt with Goodman building Metro 6R4 engines.
Car handling and set up skills were learnt on the job racing in the Vecta Ford Championship for 11 years and working for TVR's racing division building TVR race cars and their engines from scratch. Taking feedback from the drivers and translating it into race winning cars was part of the job and it is a skill Jon uses on JEMS customer's cars.
Jon's experience is vast, he has worked for UK Touring Car teams, Australian Touring Cars and has also worked on Drag Racing cars, European GT cars (with the focus on endurance as well as power) and Historic race and rally cars. Jon also worked for Knight Racing Services, the top V8 tuning company.
Simon Mauger's Mk2 Escort Rally Car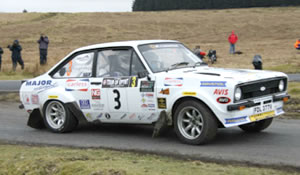 This Mk2 Escort is a regular overall winner and giant killer, regularly beating WRC machinery. JEMS work with Mayor Motorsport in the development of what has arguably become the best Mk2 Escort in the country.
Winners of the Tyneside Rally, the first National Rally win in a Mk2 Escort in 20 years.
Also winners, for two years running, of the Carlow MK2 Escort Challenge and 2nd overall, 1st in class on the Jim Clark National Rally.
For 2013 JEMS have updgraded the cars suspension with great results, finishing 4th overall on the first round of the MSA Asphalt Championship Tour of Epynt. They were the first Mk2 Escort among a top ten that otherwise comprised of World Rally Cars, four minutes ahead of the next Escort.